Sat 04/07/2015 The Three Pilgrims, an exciting trilogy of experience and skill.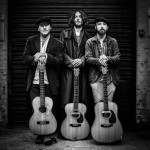 The band formed when the paths of three very individual musicians, already accomplished in their own right, fortuitously converged in the fall of 2013. Within a few months of forming, word of mouth ensured a steady increase in attendance at their small West London gigs. Soon Three Pilgrims were to appear at London's Bush Hall in support of sixties folk singer Beverley Martyn and received invitations to play at various festivals before they even had a chance to write a bio let alone record anything.
In the last year and a half, they have played at various festivals and venues in London and across the country and have been drawing crowds ever since. Among them, Love Supreme Festival, Live On The Wye, The Hawkhurst Vault, Bush Hall, The Drawingroom and Green Note. Embracing both British and American folk & blues traditions  their lyrics are bittersweet, edgy and human. Some are simply heart-breaking. 
Support comes from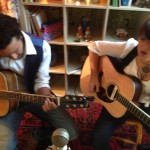 Eva Abraham (accompanied by Drew) a dream team of music, Energetic, commanding, uplifting, tender and harmonious duets.
Eva & Drew deliver real songs direct to the listeners heart. They bring flavours of folk, Country… Ska.. Gypsy and the blues …..their influences are endless….book now to ensure you get a place at this event.