Check out who played here in the past…
Our live music events have been described by our guests as an exciting and vibrant atmosphere and great for value for money.
"It's intense and uniquely special. Ask anyone who has performed or attended."
Richard Elkington
The Drawingroom


The Barnstormers
"Blues as it was intended"
The Barnstormers, you will have heard great things about them! It's fascinating to see how they emerged during the lockdown and managed to captivate audiences with their blues music, staying true to its original essence.
The success of their first Saturday gig speaks volumes about their ability to create an electrifying atmosphere. It's impressive how they've managed to bring together a group of musicians who consistently fill the yard with their exciting sounds and infectious vibes. Their popularity has soared, and now they're even available for private functions!
If you're interested in booking the Barnstormers for a , it seems they've become quite sought after. I hear they can be booked for private events starting from £700-£1000. That's quite a testament to their talent and the demand they've generated…if interested, talk to me.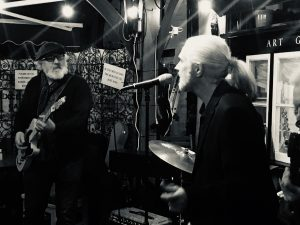 we will be indoor…which means there are fewer places…so best be quick!
Hailing from the heart of Nashville, strumming her steel guitar with passion, Stella, alongside the talented Steve Fishel, has captivated audiences far and wide. With her mesmerizing melodies, she has already amassed an impressive online following of 50,000 devoted fans. Allow me to share some links to her enchanting music, which I sincerely hope will bring you joy. And if fate allows, I truly hope you have the opportunity to witness her captivating live performances firsthand.
Catch 22 – Jazz,Funk,Soul
we have the renowned and popular Catch-22, a band that never fails to deliver an unforgettable performance…. they played here one Sunday afternoon recently and back this weekend.
Si has a voice which is as big as it gets, and as gentle and quiet as one can imagine and hear…
A Musical Maverick Blending Genres and Defying Expectations
Si Connolly is a dynamic and innovative musician who is making waves in the music industry with his unique sound and captivating performances. Hailing from [insert location], Connolly is a true maverick, pushing boundaries and defying genre conventions.
With a diverse musical background and influences ranging from rock and blues to folk and soul, Connolly's music is a melting pot of styles that creates a truly distinctive sonic experience. His ability to seamlessly blend genres and experiment with different sounds sets him apart from the crowd, making him a true trailblazer in the industry.
But it's not just his musical versatility that sets Connolly apart; it's his undeniable talent as a songwriter and performer. His lyrics are introspective and thought-provoking, delving into themes of love, self-discovery, and the human experience. Combined with his soulful and emotive vocals, Connolly's songs have the power to resonate deeply with listeners, leaving a lasting impact.
Connolly's live performances are nothing short of electrifying. With his infectious energy and magnetic stage presence, he effortlessly commands the attention of the audience, creating an immersive and unforgettable experience. Whether performing with a full band or in an intimate acoustic setting, Connolly's passion for music shines through, captivating audiences and leaving them craving more.
As Si Connolly continues to make his mark on the music scene, his star is undoubtedly on the rise. With his boundary-pushing sound, heartfelt songwriting, and captivating performances, he is a force to be reckoned with. Anyone attending will be able to perchase this as a white label, signed album




Lizzie Hardingham, a force to be reckoned with in the realm of folk music, embodies the true essence of this genre. With her unwavering spirit, she captivates audiences as both a skilled musician and a mesmerizing songstress. Her songs have the power to touch the depths of one's soul, leaving a lasting impact.
In 2019, Lizzie made her mark on the UK folk club and festival circuit, leaving a trail of awe in her wake. Notably, she graced the stage at the renowned Cambridge Folk Festival, showcasing her talent to a captivated audience. The year 2020 brought a new challenge, as Lizzie took to the virtual stage, captivating online viewers with her voice that could fill a stadium and her ability to create an atmosphere of profound silence.
Lizzie's vocal prowess and enchanting songwriting have earned her the opportunity to support esteemed artists such as Lady Maisery, Gilmore and Roberts, and Bob Fox, among others. As she gracefully emerges into the spotlight, Lizzie is on her way to headlining her own shows, solidifying her position as one of the rising stars of the folk scene.
Recognized for her exceptional talent, Lizzie was nominated for the coveted title of Female Artist of the Year by FATEA. Currently, she is being mentored by the esteemed English Folk Expo, honing her skills and cementing her place in the world of folk music. With each step she takes, Lizzie Hardingham shines brighter, destined to become a true legend in the realm of folk.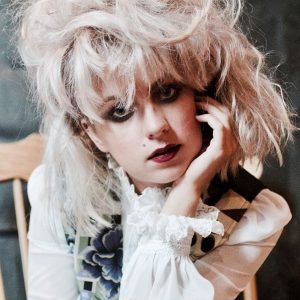 First up, we have the immensely talented Georgia Crandon gracing our stage this Friday. Her mesmerizing voice and captivating presence will undoubtedly leave you spellbound. She is huge fun.

If you like things a little Rocky with some Northern Soul spice…this is it.
Georgia Crandon, formerly known as Georgia in the Vintage Youth, is an emerging talent in the music industry who is making waves with her soulful voice and captivating performances. Hailing from [insert location], Crandon is a true artist who embraces authenticity and continues to evolve her sound.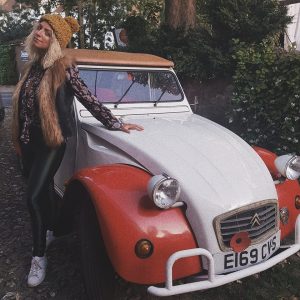 Having burst onto the scene as Georgia in the Vintage Youth, Crandon quickly gained attention for her powerful vocals and retro-inspired sound. Her music effortlessly blended elements of soul, blues, and rock, creating a nostalgic yet fresh sonic experience. Tracks like "Remember Brick Lane" and "The Girl" showcased her ability to transport listeners to a bygone era while maintaining a contemporary edge.
However, as an artist committed to growth and exploration, Crandon has recently undergone a musical evolution. Shedding her former moniker, she now embraces her own name, Georgia Crandon, as a symbol of her artistic journey and personal authenticity. This transition represents a new chapter in her career, allowing her to fully express herself and connect with audiences on a deeper level.


A Harmonious Blend of French, English, and Irish Folk at Glastonbury 2023
Originating from the vibrant grounds of Glastonbury around 2001/2002, (the band) The Portraits has become a beloved fixture at the renowned festival, gracing its stages regularly ever since. With their heartfelt music and unwavering commitment to social causes, Portraits has captured the hearts of audiences worldwide. Their unique fusion of French, English, and Irish folk melodies creates a captivating and enchanting musical experience that transcends borders. Let's delve into their journey and their recent appearance at Glastonbury 2023.
A Musical Tapestry: Portraits weaves together a rich tapestry of musical influences, drawing from the diverse traditions of French, English, and Irish folk. Their music resonates with a sense of nostalgia, evoking images of rolling green hills, ancient Celtic tales, and the romantic allure of French chansons. This harmonious blend creates a unique sonic landscape that transports listeners to a world of beauty and introspection.
At Glastonbury 2023, Portraits took to the stage with their signature charm and infectious energy, captivating the audience from the first note. Their performance was a testament to their unwavering dedication to their craft and their ability to create a sense of unity through music.
Beyond the Music: Social Consciousness:
Portraits' impact extends far beyond their musical prowess. The band has consistently used their platform to raise awareness about pressing social issues, particularly shedding light on the plight of Myanmar. Their commitment to social justice and their collaboration with underprivileged communities in various walks of life has earned them admiration and respect.
The Power of Collaboration:
Portraits' music is not only a reflection of their individual talents but also a celebration of collaboration. Their performances often feature guest musicians, dancers, and artists, creating a vibrant and dynamic atmosphere. This collaborative spirit fosters a sense of inclusivity and community, inviting audiences to join in the celebration of music and culture.
Looking Ahead: The Drawingroom Performance:
Following their triumphant appearance at Glastonbury 2023, Portraits is set to grace the stage at The Drawingroom on Friday, September 15th. This intimate venue promises to provide an enchanting setting for their captivating melodies and heartfelt lyrics. Fans and newcomers alike can anticipate an evening filled with soul-stirring music and a profound connection to the band's artistic vision.
They are a fantastic band managed by none other than the legendary Dave Robinson, creator of Stiff Records, this band is set to blow your minds! For those who may not know, Stiff Records boasts an impressive catalogue of musicians, including the iconic Elvis Costello! With such a rich history and incredible talent associated with their manager, it's no wonder that Hardwicke Circus is making waves in the music industry. An exciting young band that brings a fresh and unique sound to the stage. Their energy is infectious, and their performances are nothing short of electrifying! From their catchy melodies to their powerful lyrics, they have the ability to captivate audiences and leave them wanting more. Everyone was dancing at their first Dr show.
An incredible gig lined up at the Drawingroom … and guess who's headlining? None other than the talented 18-year-old Chloe Lorentzen!
Chloe has been gracing the stage at the Drawingroom for over a year now, and let me tell you, her performances are absolutely mesmerizing! Her beautiful melodies, sensational piano work, and her skills on the guitar will leave you in awe.
If you haven't had the chance to witness Chloe's talent yet, this is your golden opportunity! Trust me, you don't want to miss out on this unforgettable evening filled with soulful music and incredible vibes.
So, gather your friends, bring your loved ones, and join us at the Drawingroom to experience Chloe Lorentzen's magical performance. Let's come together and support this young prodigy as she continues to captivate audiences with her musical prowess.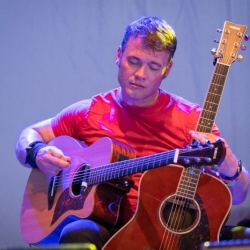 A feast for guitar players anywhere!
Get ready to witness an extraordinary performance by the incredibly talented Rodney Brannigan at The Drawingroom.
Rodney Brannigan is not your average guitarist. He's a true master of his craft, and his performance promises to be nothing short of mind-blowing. Prepare to be amazed as he effortlessly blends different styles, techniques, and genres into one seamless musical experience.
But that's not all! Rodney's performance is not just about the music; it's an entire experience filled with humor, dialogue, and captivating stories. He knows how to engage the audience and create an unforgettable atmosphere that will have you laughing, cheering, and completely immersed in the magic of his music.
His passion for music is contagious, and you'll feel it in every note he plays. From soulful ballads to energetic and upbeat tunes, Rodney's music will touch your heart and make you want to dance all night long!
So mark your calendars, gather your friends, and join us at The Drawingroom for an evening filled with excitement, laughter, and pure musical brilliance! Trust me, you don't want to miss this one-of-a-kind performance by Rodney Brannigan. It's going to be EPIC!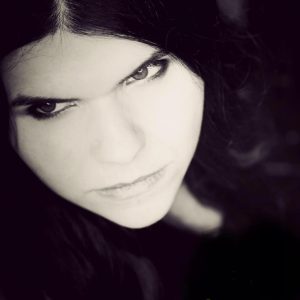 Michele Stodart is an award-winning solo artist, singer-songwriter, and multi-instrumentalist based in London. Born in Trinidad, she spent her early years surrounded by Caribbean music and culture, until she and her family fled a military coup attempt, leading them to Queens, New York where she spent a large part of her childhood. Michele is best known as bassist, vocalist and co-songwriter of Mercury-nominated, double-platinum selling band, The Magic Numbers, who have released five critically acclaimed studio albums with top ten singles, and supported the likes of Neil Young, Radiohead, Brian Wilson, U2, Flaming Lips and Bright Eyes. She continues to play with the band and tour world-wide with them.
Alongside this, Michele has always pursued her own writing and nurtured a love for folk/Americana artists such as Joni Mitchell, Leonard Cohen, Emmylou Harris, Lucinda Williams and Gillian Welch. She started writing songs in her early teens, as a way to process and tell stories from her experiences. She would hide away to write songs, rarely playing them in public. After Michele gave birth to her daughter, her older brother, Romeo (frontman of The Magic Numbers), encouraged her to record and release an album of her own songs. This resulted in her first solo album, Wide-Eyed Crossing (2012), a southern-drenched journey into Americana country blues. "I never thought I'd release a solo album, but I needed closure from those songs, so recording them was the only way to truly move on", she said at the time.
"To say that Michele's songs are 'rich' is rather an understatement – it has become the norm for the majority of people at her gigs to leave either speechless, or (and more often the case) crying…. Michele's solo music is truly breath-taking." – For Folk's Sake
"Steeped in languid melancholy… [it] sits in a rich tradition that encompasses such touchstone female performers as Karen Dalton, Judee Sill… Emmylou Harris or Gillian Welch… 'Pieces' may just be the most impressive record she's ever made" – 8/10 – Uncut
"…an album about… feeling life and the emotions it brings to their fullest intensity… instantly engaging and evocative melodies and sung with an open and honest conviction… Stodart's album is a thing of perfection." – Folk Radio
"…assured, melodic, intelligent" – Clash Magazine
"…new ideas, melancholic beats and Hope Sandoval-styled smoke to the sound, her vocals creating a cinematic feel… a beautiful record, with Stodart's home brew of Americana offering a refreshing taste." – 4/5 – Narc Magazine
"Pieces is a beautifully delicate and emotionally open album… the skilful nature of Michele's musicianship and her ability to craft a song with meaning that it imitates no one and burns with a soulful fire from start to finish." – Even The Stars
"bearing traces of folk, country and soul… the music manages to be both tuneful and mournful, jaunty yet sad. What a combo, one that never fails to deliver." – The Guardian
"If the music style is a variant of widescreen country/roots (think a smoother Lucinda Williams), then the lyric content is no less confessional… Calm, reflective, sober – for good reason, the magic number here is one" – Irish Times


The Sounds of Simon

This is the only tribute act we host, given that S&G did their first two gigs…as Simon & Garfunkal …not Tom & Gerry!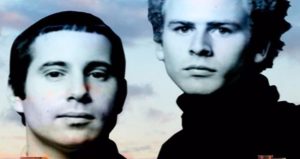 The Q have been around for a while… since 2005 in fact and this year – 2023 – they are releasing their new and third album is called; 'Three'.
Writing and releasing their own material has always been the focus for the band which is a real team effort, with all three of them chipping in with ideas. The Q deliver all the energy you would expect from a classic three piece line up, touch on vulnerability, visibility and above all saying; 'You can't ignore us! We are here!'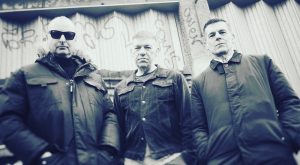 This girl sings the blues, with a jazzy lilt and passion enough to fill a barn….on keys and solo on this occasion, will be a stunning gig, loads of material…her first UK tour and we are in for a treat…
check this out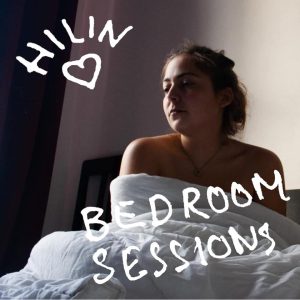 Octave Lissner Hints of David Grey, a returning artist, was born in Paris to a musical family…. Since then it has continued to serve him well, and Octave has composed and performed music in a number of bands, and as a solo artist in venues across London and Paris.
He has the most fabulous, almost crooning voice together with some beautiful tunes and meaningful lyrics…he's coming to the UK, just for this show, so, make an effort to come out and witness..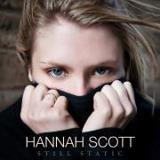 Hannah Scott performs contemporary folk music and is building a loyal following thanks to her distinctive voice, powerful melodies and thought-provoking lyrics which leave a lasting impression on her audiences. She draws much of the inspiration for her music from her affinity with Italy. A year living and working on an olive press in rural Tuscany in her late teens provided the backdrop to her early work, and the draw of the country and its influence have not faded with time.Her music has been heard in the hit TV series, Grey's Anatomy, and has been played regularly on the BBC with releases supported by Dermot O'Leary and Bob Harris on BBC Radio 2 and Tom Robinson on 6 Music. She's also been featured by MOJO, The Guardian and Clash Magazine. Her arresting live performances have earned her support slots for artists including Madeleine Peyroux, 10cc and Paddy Casey and she has twice travelled to New York festival Mondo NYC.Listen to Hannah's latest album, Drawn To Darkness. With strong melodies, thought-provoking lyrics, Hannah's distinctive voice and Stefano's powerful production, these songs will remain with you long after you have finished listening.
Christabel Milner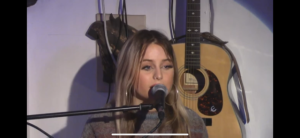 Christabel Milner is a 17 year old singer songwriter with many stories to tell. She has been writing since she was a child and uses her own personal experiences to write music. She has been winning awards for her songs and has been singing since she was seven years old. She was offered a bursery for her singing when she was seven years old in Chesham.
How many artists could get a quotes like this?

"I'm so glad to be introduced to Tom Baxter. His work is so beautiful & inspiring." 'Stin
This will be the first live show Tom has agreed to for some while as he's been busy composing for film and TV.
In addition to which, he's become a dad and chose to create a new life, still very much in music, but studio not halls..so this really is a unique opportunity to hear this internationally renound musician.
Tom Baxter is a British singer-songwriter known for his soulful and introspective music. Born in Suffolk, England, Baxter began his musical journey at a young age, honing his skills as a guitarist and vocalist. He first gained recognition in the early 2000s with his debut album "Feather and Stone," which showcased his heartfelt songwriting and distinctive voice.
One of Baxter's notable career highlights includes his collaboration with the iconic Shirley Bassey. He had the privilege of performing alongside Bassey on several occasions, creating magical moments that left audiences in awe. These performances not only showcased Baxter's talent but also solidified his presence in the music industry.
In addition to his work as a solo artist, Baxter has also made significant contributions to the world of film and television. His song "Better" was featured in the hit TV series "Grey's Anatomy," gaining him further recognition and expanding his fanbase.
Throughout his career, Baxter has captivated audiences with his emotionally charged performances and thought-provoking lyrics. His music often delves into themes of love, loss, and self-reflection, resonating with listeners on a deep level.
Now, after a hiatus from live performances, Tom Baxter is ready to make a long-awaited return to the stage. Fans can expect an unforgettable experience as he shares his musical journey once again, showcasing his growth as an artist and captivating audiences with his undeniable talent.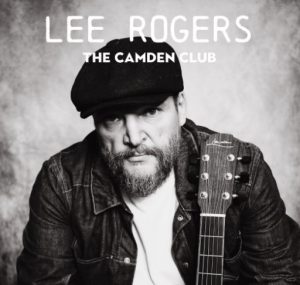 "There's a soulful quality at play in his songwriting and performance that sets him apart from the singer songwriter crowd. Whatever "it" is Lee's got it! He is the real deal." – BBC –
Based in Carrickfergus, Northern Ireland, Lee Rogers produces sounds as emotive, inspiring and mysterious as his home turf feels. The contemporary songs with strong Americana influences contained on 'Gameblood', his second album, display a masterful musical craftsmanship while showing off open-hearted, lyrical storytelling. Rogers is an experienced singer-songwriter with his soul on his sleeve; a rare and authentic artist whose music is as timeless as he is. "Lee has a natural ability to tell a story like no other, his raw and unfiltered talent simply draws you in" – Gareth Dunlop –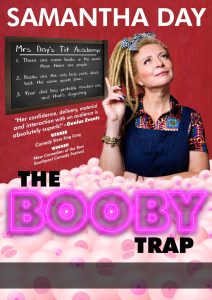 Comedy Nights with Samantha Day




Isabella is a singer-songwriter wise beyond her years, with a voice as sweet as it is powerful that bristles with youthful enthusiasm and an emotional maturity that would not see her out of place amongst the greats, completed by playing both acoustic guitar and keyboards. A prolific and skilled songwriter with a style that is very much her very own, she moves effortlessly from dynamic pop tunes, sensitive ballads, soulful torch songs and light-hearted fun numbers.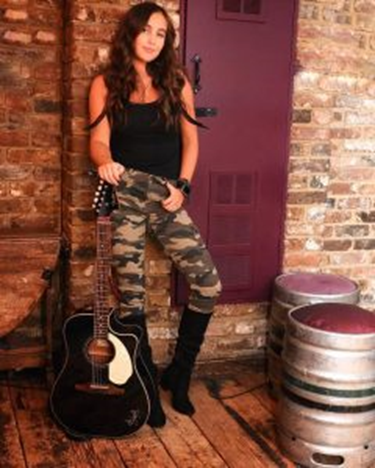 Alissimon is a singer-songwriter from the UK(Chesham) She has been writing songs since 2020, and has released 3 singles with multi-platinum producer Eliot James. She has been championed by BBC Introducing, being chosen as one of their 'Ones to Watch' and most recently recording a 'LIVE: In Session' for them with renowned folk guitarist John Smith. She is currently recording an EP with Liz Horsman and Tim Bidwell, and will be releasing it in 2024
Tu-kay & Ryan are a multi-award winning acoustic duo blurring the lines between folk, Americana and roots music.
They have become known for their lush harmonies and heartfelt lyrics. Their songs encourage a positive outlook on life, even when things may be tough. They are optimists at heart and believe there is always a light at the end of the tunnel, no matter how small or distant it may seem.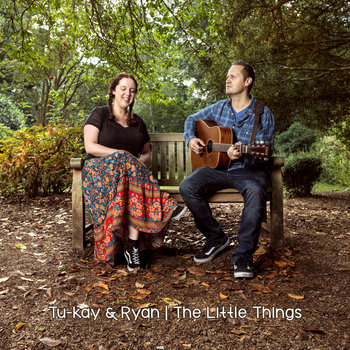 Having played on the scene in Brighton and Hove as well as farther afield for some time, Dan Shears And The Velveteen Orkestra have developed a reputation for pained songs that veer between the fragile and frantic.
Dan, a south London-born singer was invited to join a covers band as vocalist and began learning how to play the guitar using borrowed instruments. He bought his own guitar at the age of 16 and formed his first band, Coma – named after his battle with the serious illness meningococcal meningitis as a toddler.
When the band split in 2007, he started out on his own, while also studying for a music degree at the University of Sussex.
Initially performing as Petruchka – and taking lyrical influences from the likes of Angela Carter, Franz Kafka and the films of Stanley Kubrick and Tim Burton – he eventually created the sound of Dan Shears And The Velveteen Orkestra, based around the idea of an orchestra from the street, using working-class musicians, adding a touch of venom to the rich orchestrations. The resulting EP, The Eternal Mystery Of The Human Heart, was released in 2010.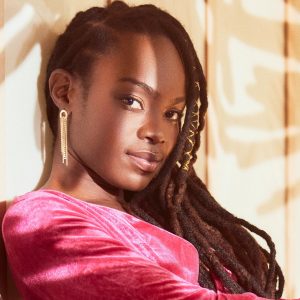 Sabrina Francis is a Caribbean/AfroBeat singer/songwriter from Grenada. She is probably the islands best known performer and has been building a global audience over the past couple of years, including featuring on Pentatonix "Around the World for the Holidays" which aired on Disney Plus over the holiday season in 160 countries.
Her current single Learn to Love has 137k YouTube plays (growing daily). Her previous single Cocoa Tea hit 369k views. Previously Sabrina has sucessfully toured the UK in 2021 and 2022 (short tour) selling out shows in London and Cambridge, amongst others. Video
Daisy Chute is an American-Scottish folk singer and songwriter. A banjo-wielding multi-instrumentalist, her musical roots are born out of her transatlantic heritage and she writes award-winning intelligent songs with stories, performing them with spine-tingling vocals & intricate instrumentation. Whilst still at school Daisy signed to Universal/Decca as one quarter and lead vocalist of multiple platinum selling band All Angels. A mix of Celtic, American, Classical and Jazz backgrounds has since seen her feature across Film/TV/Game soundtracks ranging from The Sims 4, Shaun The Sheep the movie, Loki, 47 Ronin and Yesterday to David Attenborough documentaries ('A Perfect Planet') and Radiohead albums (session vocalist on 'A Moon Shaped Pool'). Recent projects have garnered support from the likes of her songwriting mentor Sir Ray Davies who describes her as a 'committed, professional and creative songwriter' and from music journalist Paul Sexton who counts her among his 'top music tips'. Her original work has had features on BBC Radio Scotland / Ulster / London / Kent / Coventry / Surrey, C4, BBC 1, 2 and 3, Sky, ITV, CNN, Bob Harris' Under The Apple Tree series and London Live.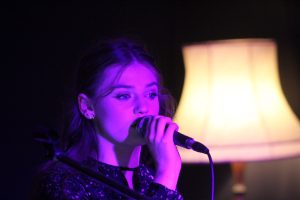 As a supporting act for the evening we are delighed to have Matilda back, a 17-year old solo singer/songwriter from Wendover. Her original music has a pop-folk vibe combining powerful yet vulnerable vocals with tunes that instantly get you hooked then reel you in. With poetic lyrics, she takes influence from Fleetwood Mac to Taylor Swift via Pheobe Bridgers and Lana Del Rey. Early in 2023 Matilda Florence released her debut single 'Red Lights' quickly followed by 'Remember' and 'Fools Break Hearts Too' across all music platforms, airtime on BBC introducing. She is currently working on her debut album and will be back in the studio later this year to record and arrange her growing collection of songs.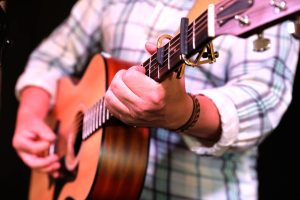 With a musical heritage of playing bass guitar in 90's rock bands, Steve discovered folk music later in life and by stumbling into a folk session at his local pub (Kimpton), he felt immediately at home with this community. The storytelling song writing and the energy and passion of fellow musicians playing together was something that lit a spark within that has never left him.
Video
Enda McCabe

Stories and music from Enda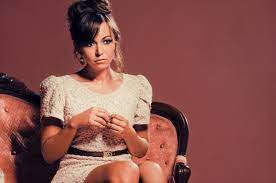 Melinda has always been chasing her dreams. Establishing herself in Los Angeles (and then Chesham) Melinda developed her distinct indie pop/electronic style, often compared to a mix of artists like Fiona Apple, Muse and Regina Spektor.
Never one to rest, Melinda has toured america, UK/Europe and Japan, played SXSW, won "Best Of Sundance" and has opened for Cobra Starship, Miguel and Joe Jonas. MTV's "Steal The Spotlight" Contest crowned her grand prize winner, you may have heard her songs featured in the films I Hate Valentine's Day by Nia Vardalos (My Big Fat Greek Wedding) and American Pie 7: Book Of Love, pushing her music video "Heartbeats" to over 184K+ hits.



The Korgis, formed in 1978, is a British pop band known for their melodic and catchy tunes. The group was founded by James Warren and Andy Davis, both former members of the band Stackridge. Their music is characterized by a blend of pop, rock, and new wave elements.
Whirl back in time with The Korgis as they take you on a musical and audio/visual journey though the songs and bands that influenced them.
They will be putting their own unique spin on songs by The Beatles, The Beach Boys, the sublime harmony of Simon and Garfunkel, the wry humour of 10cc, the quirkiness of Buggles, the creativity of Peter Gabriel and of course, songs of peace and hope from The Korgis.
James, John and Al will talk about and play, the music that influenced the big Korgis and Stackridge songs like 'Everybody's Got to Learn Sometime, If I Had You, Bringing Back the Spirit of Love, If It's Alright With You Baby and Something About The Beatles.
If you want to know something, then ask away – yes, there is a spot where they will be taking questions!
The Korgis try to recapture their youth – and perhaps yours – in a musical journey that will tweak the memories and leave you in a spin….so, All aboard The Korgis Time Machine!
In terms of hits, The Korgis achieved notable success with their debut single "If I Had You" in 1979, which reached number 13 on the UK Singles Chart. However, their breakthrough came with the release of "Everybody's Got to Learn Sometime" in 1980, which became their biggest hit. The song reached number five in the UK and also charted well internationally, making it their most successful single.
Apart from their chart-topping success with "Everybody's Got to Learn Sometime," The Korgis had several other notable hits. "If It's Alright With You Baby" reached number 56 in the UK, while "Dumb Waiters" peaked at number 47. "All the Love in the World" also achieved moderate success, reaching number 20 on the UK Singles Chart.

In terms of top tens, The Korgis had one top ten hit with "Everybody's Got to Learn Sometime." This heartfelt ballad resonated with audiences and remains their most recognized and beloved song to date.
With their unique sound and memorable hits, The Korgis have left a lasting impact on the pop music scene. Their upcoming performance at The Drawingroom is sure to be a treat for fans and music enthusiasts alike.
"Rachael Sage's profound, retro sound situates her tremendous talents with the scene, and is sure to skyrocket her career into unwavering realms" – Wonderland
"If someone tells you modern musicians aren't producing meaningful artistic statements reflective of our age, don't believe them. Point them in the direction of Rachael Sage." – Vents Magazine
"'The Other Side' stands as a testament to Rachael Sage's artistic talent, a folk-pop masterpiece that intertwines the tangible with the ethereal, the emotional with the melodic."
– Music-News
"Brimming with hope and optimism, this is the perfect tune to hum along to…glorious."
– The Country Note
"emotive, thoughtful…The delicate nature of Rachael's sound and her poised, lyrical depth makes for a compelling listen." – Clout Magazine
"Rachael Sage is a New York City songstress whose music playfully avoids simple categorization. Weaving together bits of folk, pop, rock, blues, jazz,…Sage has created an eclectic body of work that's witty, graceful, and powerfully intimate." – NPR Music
Rachael Sage | Facebook Website – Rachael Sage : Latest News
"The spellbinding NYC-based songstress Rachael Sage has returned once again to grace us with her latest delicate and profound single "Whistle Blow"…this propulsive and musically lush track is a masterpiece." – For Folk's Sake
Songs from the heart of an authentic Irish singer songwriter, Gráinne Hunt is a contemporary nu-folk singer/ songwriter with a rich background in performance and songwriting. She's sung with Glen Hansard and U2, has opened for Gladys Knight and Eagle Eye Cherry, is an outstanding vocalist and songwriter, and has been compared to Tracy Chapman and Natalie Merchant.
'A natural performer, Grainne Hunt commands an astounding voice that will melt your heart. No crowd can resist.' Declan O'Rourke
'Grainne touches her audience with stunning vocal agility, superb guitar accompaniment and a host of songs that resonate and touch the soul of the listener. She owns the stage with her charm, talent and message' Carl Corcoran Songwriter/Broadcaster/Industry Consultant
Night Flight
Steve Rodgers, singer songwriter, his songs reflect his passion for life's depth, mystery and wonder, recorded with his band of like-minded musicians. Critics compare his music to a mix of Jack Johnson, Paolo Nutini and Cat Stevens.

At 14 he began to write his own songs on guitar and piano. He started a band with his friends and sister Jasmine at 17, 'Lost Sons of Davros'. From the 'Lost Sons' came 'Boa' they created two great albums – their first single 'Duvet' was the title track to the Japanese multi award- winning animation series Manga 'Lain – Serial Xperiments'. They toured the States, the UK and after much enjoyment, Steve decided to follow his own path.
He has 'guested' at Wembley for Bad Company, Aerosmith's Joe Perry and the Robert Randolph Band. Tours have included support slots for Bad Company in the UK and Japan and his own headline dates in the UK and Canada. Steve has also supported The Deborah Bonham Band and Midge Ure on their respective tours in the UK and Europe. In 2014 he supported Bad Company again with Lynyrd Skynyrd for their coast to coast US tour and in September 2015 he joined Stackridge for a three month tour of the UK.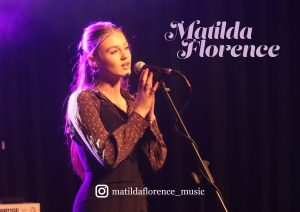 Matilda Florence is a 17-year old solo singer/songwriter from Wendover, Buckinghamshire. Her original music has a pop-folk vibe combining powerful yet vulnerable vocals with tunes that instantly get you hooked then reel you in. With poetic lyrics, she takes influence from Fleetwood Mac to Taylor Swift via Pheobe Bridgers and Lana Del Rey.
During the summer months Matilda Florence performs at various festivals making her third appearance this year at Standon Calling with the People's Front Room and last year opening the 2022 Astonbury festival. Recently she supported American singer/songwriter Karl Blau on the opening night of his UK tour and has been selected as one of the five acts for the launch of 'Unsigned' at the Norman Bragg studio, Aylesbury Waterside Theatre. Matilda Florence gigs locally at The Petri Dish in Aylesbury, the King & Queen in Wendover and regularly plays at The Drawingroom in Chesham.
Early in 2023 Matilda Florence released her debut single 'Red Lights' quickly followed by 'Remember' and 'Fools Break Hearts Too' across all music platforms, achieving airtime on BBC introducing. She is currently working on her debut album and will be back in the studio later this year to record and arrange her growing collection of songs.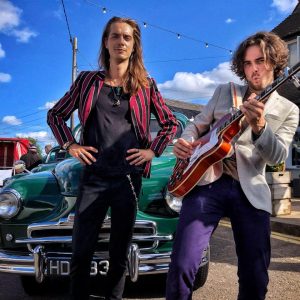 The Cinelli Brothers
is a project born out of a common passion for the electric Chicago and Texas blues from the 60s and 70s , when brothers Marco (guitarist and lead singer) and Alessandro (drummer) decided to form an explosive team showcasing original repertoire in the Style of Chess , Stax and Motown .
Joining the two brothers on stage, Tom Julian-Jones on harmonica, guitar and vocals and Stephen Giry on bass, guitar and vocals. In 2020, 2021, 2022, 2023 the band has been nominated for the UK Blues Awards as "Blues Band Of the Year". The Cinelli Brothers champion a new generation of passionate musicians sharing in the love of Blues , Soul , R&B and the true authentic sounds that have made the blues a cornerstone of music history.The Cinelli Brothers is a project born from a common passion for Chicago Blues and Texan Blues of the 60s and 70s , when the two brothers, Marco (on guitar and vocals) and Alessandro (on drums) decided to form an explosive team by presenting an original repertoire in the style of Chess, Stax and Mowtown. The Cinelli Brothers are an encouraging example for a generation of passionate musicians sharing a love of Blues , Soul , RnB and the authentic sounds that made the blues a cornerstone of musical history.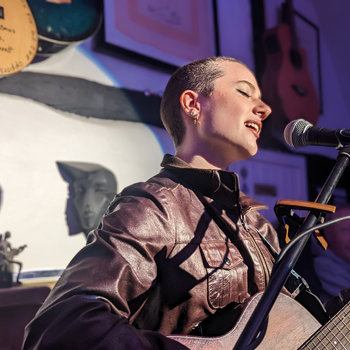 Ruby is a singer songwriter from Chesham with an authentic and unique style. She has an impressive CV for someone so young (17) debuting here aged just 10 …and going on to perform at Indigo @ The O2, with numerous Television appearances on The Voice Kids UK 2020 & various music venues & festivals across London and the South East. Paloma Faith asserted " it already feels like Ruby Leigh is an established artist in her own right".
Daniel Gallaha…. hints of Radiohead, here's some links to his work: https://open.spotify.com/artist/5ymmGEfAjKXIpNa8e5AEmC
Journal-Keepers on Apple Music
http://www.facebook.com/journalkeepersmusic
Jasmine sings, what I describe as World Folk music…and you can hear her performing here from 2017 in the link on her name. She's funny too…a really comfortable performer and a delightful soul. Her music is unique, there's no one who sounds like her. She works with some very established artists too, Scott Mathews to name but one… Passionate and intense.
Laura Lisa was the voice and percussion with Sabrina Francis earlier this year…an artist in her own right…she's opening for Jasmine who like her brother Steve has been performing here for years. Laura Lisa was born and raised in Grenada, West Indies, Laura Lisa is a calypso-fusion singer-songwriter whose songs send powerful messages of hope, strength and self-confidence. Laura Lisa has had both live performing and recording experience. Laura Lisa has also made her way through the local reggae circuit, being the lead singer of the local reggae band, D-Unit. Laura Lisa, in her own right, is considered a musical gem and a symbol of feminine power in Grenada, and her music and message will do wonders to the World.
Hope is a singer-songwriter from London. Coming from a non-musical family, Hope is a primarily self-taught musician, with a passion for music as a driver for personal, social and cultural change. She left school at 16 to pursue a career focusing on songwriting, releasing original singer songwriter material via streaming platforms and live performance.
Hope has channeled her life experiences around loss, change and grief into her original material that has led to a global audience of over 130K YouTube subscribers, and an accumulative 20+ million views. She has also had sync placements for several global TV adverts Dog's Trust #SpecialSomeone TV Ad (2016) and 'A Place To Call Home' Australian TV Show (2018), and jewellery company, 'Vashi' advert for TV and Cinema. Hope has spent the past 4 years performing regularly nationally and internationally, and has been featured several times on BBC Introducing. She was also appointed to the position of Board Director at the prestigious Ivors Academy.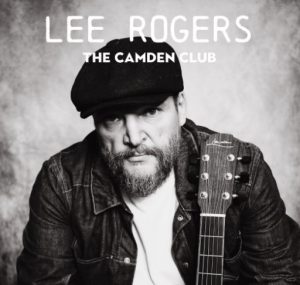 "There's a soulful quality at play in his songwriting and performance that sets him apart from the singer songwriter crowd. Whatever "it" is Lee's got it! He is the real deal." – BBC –
Based in Carrickfergus, Northern Ireland, Lee Rogers produces sounds as emotive, inspiring and mysterious as his home turf feels. The contemporary songs with strong Americana influences contained on 'Gameblood', his second album, display a masterful musical craftsmanship while showing off open-hearted, lyrical storytelling. Rogers is an experienced singer-songwriter with his soul on his sleeve; a rare and authentic artist whose music is as timeless as he is. "Lee has a natural ability to tell a story like no other, his raw and unfiltered talent simply draws you in" – Gareth Dunlop –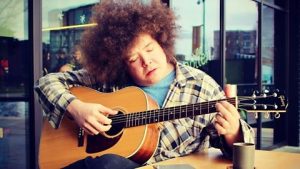 Jon Coley, a Mercury award nominee … always delivers spellbinding performances. Jon played here last year and was quite an extraordinary find. We are excited to have him back this summer.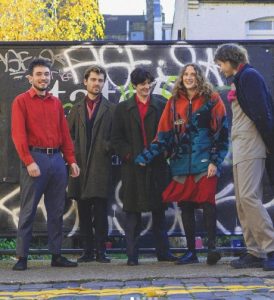 We are excited to have Preen the Band at the Drawingroom.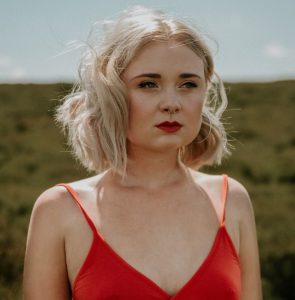 We also have Emily Jane on that night.

Flo Perlin is a contemporary folk singer-songwriter from London, UK, with Iraqi and Belarusian heritage. She grew up surrounded by a diverse range of music, learning to play cello at the age of five. The guitar put a spell on her when her teacher from Columbia introduced her to the world of Bossa Nova, which influenced her own unique finger picking style. Flo taught herself piano and started singing as a way to begin writing songs from the age of ten.
Over the years Flo has been presenting within her music how contemporary folk and story-telling is evolving and has incorporated her diverse love of music into her new album 'Characters', which was recorded at MAP studios in Kentish Town with a group of amazing session musicians.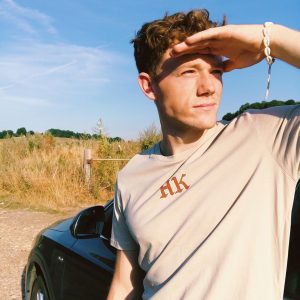 Casey Sana, a composer, muscian and jobbing actor is tall, talented and fast becoming a regular here:"My goal has always been to create the music that I wanted to listen to and tell stories that reflect life, whether that's an intimate folk ballad like Building Bridges, or an upbeat, dream like pop song such as Cardboard Spaceships. I named my album The Human Experience because that's what so much of my music is about: I love telling stories about my own human experience, as well as tales from countless other extraordinary human experiences around the world!"
Mark Hole, aka 'The Hole of Mark'
Mark, a returning artist of many years, quite the most positive performer, entertaining…mad as a box of frogs and stunning music too..this will be a band performance.
both huge favourites of mine: James, "A Force To Be Reckoned With" Global Songwriters, Nashville USA:
James, a Drawingroom legend, of many sell out nights here, James has been performing his high-energy music worldwide for over 15 years. His beautiful and melodic songs hold audiences regardless of size, age and musical preference. Opening stages for artists such as Eddie Reader, Toploader, Matt Cardle & Hoosiers to name a few.
"A fantastic singer songwriter! No wonder he's in such high demand in the UK & Europe!" – Dominic King, BBC Radio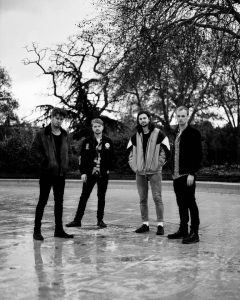 The King's Parade are back and it's going to be amazing !!!
https://www.youtube.com/thekingsparade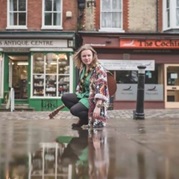 Folk Music at its finest
Indomitable folk musician and ornate songstress, Lizzy Hardingham, is paving her way as a powerhouse performer with "beautifully delivered songs that sing straight to the heart". 2019 saw her storm the UK folk club and festival scene, including Cambridge Folk Festival, while in 2020 she captivated online audiences with "a voice that could fill a stadium and the sensitivity to bring a room to attentive silence". This paragon of vocal vigour and songwriting sorcery has supported the likes of Lady Maisery, Gilmore & Roberts and Bob Fox (to name a few) and is emerging gracefully into the world of headline shows. Having been nominated for FATEA's coveted Female Artist of The Year, Lizzy is currently being mentored by the English Folk Expo and working on "firmly nailing her place as one of the rising stars of the folk scene".